Veteran
Krista Jackson
Thursday, May 28, 2020
from the Kentucky Department of Veterans Affairs website
Kentucky's High School Diploma Program allows veterans who left school to enroll in the military and served during the World War II, Korea and Vietnam conflicts to receive an official high school diploma from their school. Since beginning in 2002, the program has proven highly popular and deeply moving for the veterans and their families.
At the outbreak of World War II, many Kentuckians left high school to enlist. They never graduated. But the Kentucky Department of Veterans Affairs established a program through which such veterans with an honorable discharge could receive from their high schools the diplomas they earned. Sam K. Long Jr., 94, received his Shawnee High School Diploma Sunday, July 1 in a surprise from his son Michael. Mr. Long, who still works, was momentarily overwhelmed.
Harlan County Schools Superintendent Mike Howard, center, presented Veteran High School Diplomas May 19, 2016, to Johnny Mack Johnson, left, and Wallace Prince, right. Howard read a letter from the Kentucky Department of Veterans Affairs, commended and thanked the men for their military service to our country. Also recognized, but unable to attend, was J.B. Pittman. Prince and Pittman served in the Navy, while Johnson was a member of the Marine Corps.
State law requires school districts to present diplomas of high school completion to those veterans of World War II, Korea and Vietnam who left high school before graduation in order to serve in the military.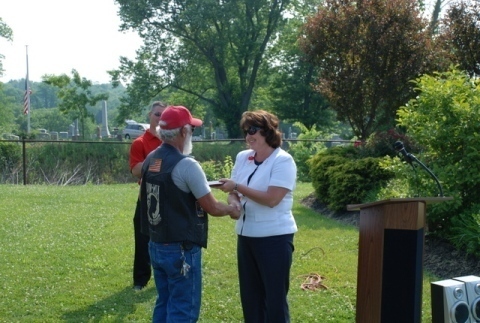 Larry Hawn left Simon Kenton High School before graduation to serve his country. Dr. Terri Cox-Cruey, Kenton County School District Superintendent, presented that long awaited diploma to Mr. Hawn at the Walton Verona Veterans Memorial Service on May 28, 2012. Mr. Hawn served two tours of duty in Vietnam.
• WWII - House Bill 45: More than 60 years after WWII broke out, the 2002 session of the Kentucky General Assembly passed House Bill 45 directing school districts to issue high school diplomas to veterans whose high school education was interrupted by the global conflict. Governor Patton signed the legislation into law on 2 APR 02.
• Korean Conflict - House Bill 113: The 2004 session of the Kentucky General Assembly passed House Bill 113 to authorize high school diplomas for veterans who left high school due to the Korean War. Governor Fletcher signed the legislation into law on 12 APR 04.
• Vietnam War – House Bill 60: The 2005 session of the Kentucky General Assembly passed House Bill 60, which extended high school diplomas to Vietnam Veterans. Governor Fletcher signed the legislation into law on 11 MAR 05.
• Eligibility: Any honorably discharged veteran who was enrolled in, but did not complete, high school prior and served in the Armed Forces of the United States during World War II (7 DEC 41 - 31 DEC 46), during the Korean Conflict (25 JUN 50 - 27 JUL 53) or Vietnam War (5 AUG 64 – 7 MAY 75. If serving in Vietnam prior to 5 AUG 64, the period begins 28 FEB 61)
• To apply: Complete the Application Form by mail/fax. and send it to KDVA along with a copy (not the original) of the veteran's discharge papers that show he/she entered the service during WWII or the Korean War.
These items should be sent to:
KDVA High School Diploma Program 1111B Louisville Road Frankfort, KY 40601
We will verify the service and provide written verification to the school district and the veteran. The school district will prepare and issue the diploma.
• Questions: Email or call us at (502) 564-9203 or toll free at (800) 572-6245 if you or someone you know has questions concerning receiving a diploma under these provisions of the law. If You Can't Locate Your DD Form 214
If you are originally from Kentucky or entered service in Kentucky the Military Records and Research Branch may have a copy of this important document. Records Request Form. Complete the request form and mail or fax it as indicated on the form.