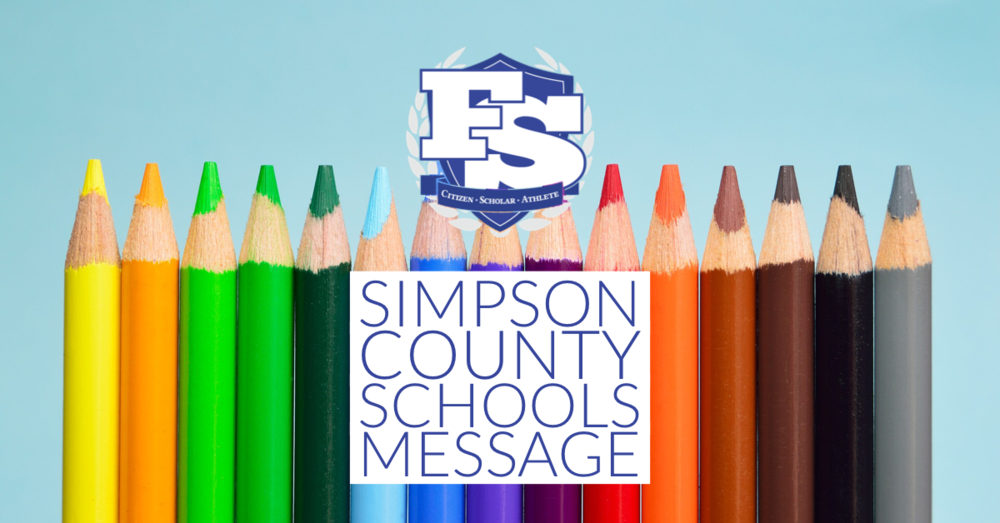 Homeland Security & School Safety Message
Simpson County Schools
Tuesday, August 27, 2019
SCS Parents and Guardians,
The Kentucky Department of Education and the Kentucky Office of Homeland Security released a statement on Monday about a generic social media threat against schools in Arkansas and Kentucky. I have spoken directly with the Franklin Chief of Police and the Simpson Co. Sheriff and they are aware of the issue and will have ample coverage at all our schools on Wednesday August 28th. The statement below was released from the Kentucky Office of Homeland Security:
"We are aware of a Facebook post circulating about a possible incident at a school being planned for the 28th in Kentucky and the 29th in Arkansas. Initially, the threat was reported to FBI Little Rock from an individual outside of the US. The threat was read in a gaming chat room that indicated there is going to be an incident at a Kentucky and Arkansas school on the 28th and 29th of this month. The threat DID NOT name a specific location in either state and was very generalized. At this time, the complaint is UNSUBSTANTIATED. If anything further develops from this report, the KIFC will push out additional information as it becomes available. The FBI and KIFC, as well as state and local law enforcement, continue to monitor the situation".
Simpson Co. Schools HAS NOT been specifically named in any threat. SCS has security protocols in place that are followed every day to ensure the safety of all our students, staff, parents and visitors. Safety is of the utmost importance to us. I wanted to communicate the information that we have so that you are informed. We will continue to monitor the situation with our local and state law enforcement. The administration is available to answer any questions that you may have. We are off to a great start and look forward to a great 2019-2020 school year.
Tim Schlosser
Superintendent