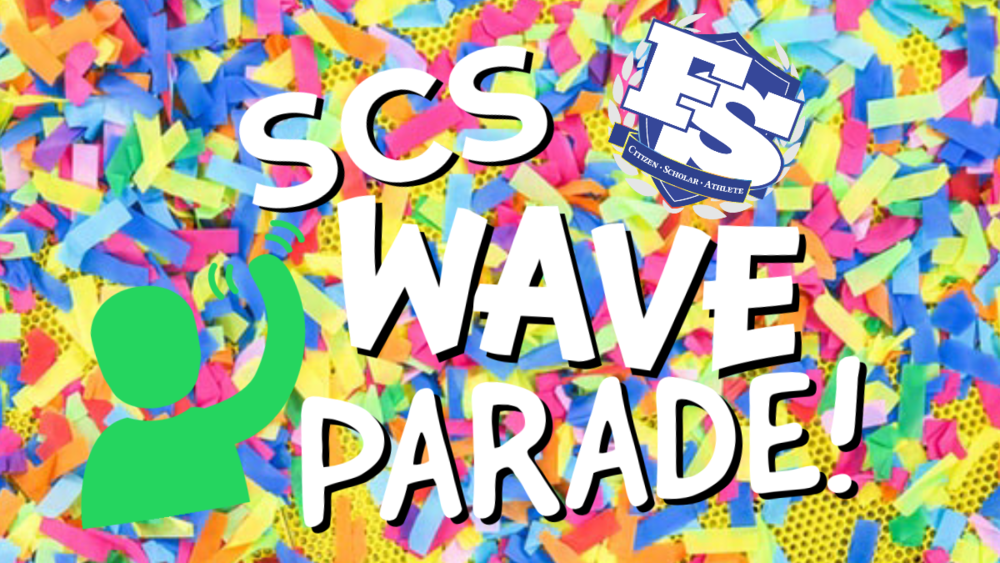 SCS Wave Parade!
Krista Jackson
Tuesday, March 31, 2020
Hello SCS Families! We will be having a SCS Wave Parade on Wednesday, Thursday, Friday of this week! I am sure some of you have seen the wave parades done by the various schools in the last few weeks. A wave parade is where teachers drive in their cars around the different neighborhoods in their districts and wave to their students. Teachers decorate their cars and students and parents hold up signs and wave as they come by. From the videos that I have seen, it seems like a fun time for all involved!
The SCS Wave Parades will start around 3:00 pm each day! We are so excited to be able to do this for the students, parents, and community of Simpson County! This is an unprecedented time and we are all doing the best we can to make the best of it. We are all in this together and this wave parade is a great way to show this!
The safety of everyone is one of our biggest concerns during the wave parades! As we pass by your neighborhood and/or house, please do not gather with other families. Please stay on your front porch and/or yard only. It is important that we do not have any gathering of any kind during the wave parades. Families can also make signs and posters to wave as we pass by if you would like.
Our goal is to hit the majority of Simpson County over the course of these three days! Below are the neighborhoods that we will visit each day! Each neighborhood listed will be visited on Wednesday, Thursday, and Friday so that we give everyone a chance to experience this. If we aren't coming by your house, find a safe space in one of the neighborhoods listed to join us for the wave parade but remember, do not gather with any other families during this time!
Be sure to be looking for us around 3:00 pm if we will be in your neighborhood! We miss our school kiddos so much and this is a great way for us to see them! As always, stay safe Simpson County!!
Routes for the Wave Parade
**These neighborhoods will be visited Wednesday, Thursday, and Friday of this week by teachers from different schools in the district! Be sure to attend one or all of the parades this week! We can't wait to see you!!**
SW QUADRANT
HIGHLANDS
BLACKBERRY RIDGE
WALNUT AND POPLAR STREETS
THE NEIGHBORHOOD ACROSS FROM SIMPSON
SENG STREET AND NEIGHBORHOOD
WESTWOODS SUBDIVISION
PEPPER STREET
WEST CEDAR
HIGH STREET, FRANKLIN AVENUE, LIBERTY STREET
SE QUADRANT
BRECKENRIDGE STREET ACROSS 1008 DOWN MORRIS STREET
STREETS BETWEEN MORRIS AND CHERRY STREET
CHERRY STREET ACROSS THE TRACKS TO LEMON AND ORANGE
THE APTS.
OUT TO GARVIN POINTE APTS. AT EXIT SIX.
BACK INTO TOWN AND GO DOWN E. MADISON STREET
NE QUADRANT
EAST CEDAR TO EAST STREET
STREETS AROUND GREENLAWN CEMETERY
COTTAGE LANE
RUTHERFORD AVENUE AND SIDE STREETS
QUAIL RIDGE
HUNTINGTON PARK
WINDY CIRCLE
BRODERSON TRAILER PARK
STRAWBERRY LAND, SPEARS AVENUE, MARK STREET
EAST CEDAR TO TOWN
NW QUADRANT
HARRISTOWN AND GRAINGER VILLAGE
BREVARD STREET MCGOODWIN AVENUE AND HIGH STREET
WESTVIEW HEIGHTS
AKIN AVENUE
PATTON SUBDIVISION
SALEM AND WINSTON STREETS
CAMBRIDGE TRACE
COUNTRY CLUB ESTATES
NEW SUBDIVISION NORTH OF COUNTRY CLUB ESTATES